I don't have much to say today, but I wanted to share the following image with everyone because it is a very
comprehensive
and
informative
set of directions about weight loss that I think everyone, and especially beginners to the fitness world, will find useful.
The great thing about this image is that it covers the main weight-loss topics. It then tells you what you should do while explaining what will happen if you do certain things and what will happen when you do not. If you can't see this image any larger, here is the website it originates from:
http://www.superskinnyme.com/how-to-get-skinny.html
They have a nice big version at the bottom of the page for you to look at.
To be honest, I had planned to pick out a couple of my favorite points that they make, but I absolutely
love everything about this chart
. It's definitely worth taking the time to look it over. Although....I guess there is one thing I do not love about it actually, and that would be the title. I'd prefer it to say, How To Get Fit and/or Healthy...but it's not mine to rename, so I won't say any more.
Today is definitely the day for images. I haven't done a lot of exploring into the world of
yoga
, but while fishing for the link to the picture above, I stumbled across this one: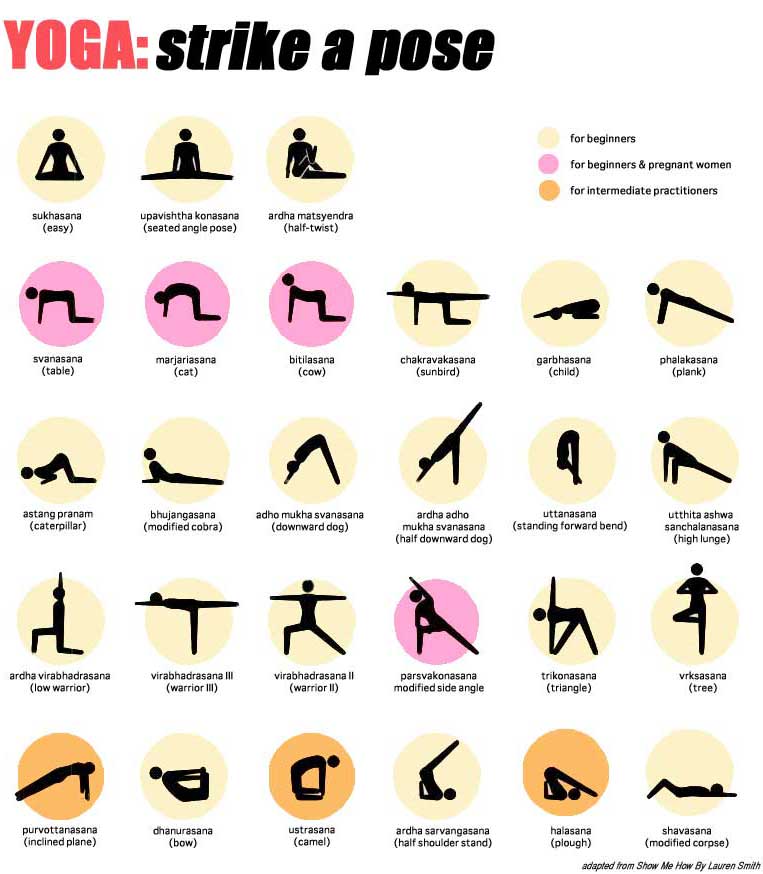 It tells you the
names
for poses and the difficulty level of the pose. Maybe it's just because I've never looked, but I haven't seen anything like this out there so far, so I'm posting it here to share just in case anybody gets inspired to try some yoga moves. I'll probably be trying them out later today.
Last, but not least, my Photo Inspirations for the day:
To fuel my obsession and future goal to work out in only a sports bra with no need for concern about extra jiggle...
Because this has definitely been me in the past (I claim a solid bookworm status)...just hoping one day I can look this attractive while asleep lol
Have a
great
day and don't forget to take the poll (top right)!!!